Description
Details
Game Of Thrones Daenerys Targaryen With Special Design Blue Dress Cosplay Costumes
Includes: Dress, Belt, Wig
Material: High-grade chiffon, cotton
Net Weight: 0.90kg
Shipping Weight: 1.10kg
Shown Color: Blue
Care Instructions: Hand wash in cold water, hang to dry, no bleach
Features: This costumes is more similar to the hot original character Game Of Thrones Daenerys Targaryen. It's really beautiful and lovely, worth having.
Character Introduction: Queen Daenerys Targaryen is a major character in the first, second, third, fourth, fifth, and sixth seasons. She is played by starring cast member Emilia Clarke, and debuts in the series premiere. She is the younger sister of Viserys Targaryen and the youngest child of King Aerys II Targaryen, who was ousted from the Iron Throne during Robert's Rebellion. Daenerys is the only daughter and youngest child of King Aerys II Targaryen, the "Mad King", and his sister-wife Rhaella.
Please check our sizing chart before you do the purchase, we can accept some of the customize size requirements, but please provide us your measurements.


Reviews
Thank you!

Review by

Michaela

Item quality is great! It fits like a glove! Fast shipping I can't wait to wear it! (Posted on 9/7/2020)

perfect !

Review by

Jessica

This the blue dress is beautiful and suitable, and the girdle is beautifully made! Everything looks great! I plan to buy a Daenerys Targaryen wig as a match! (Posted on 8/20/2020)

Nice handmade items

Review by

DAISY

This was an amazing buy! Beautiful seeming,. (Posted on 12/21/2019)

Overall, I would definitely recommend this.

Review by

May

Friendly and fast customer service, and wonderful costume quality and attention to detail! (Posted on 11/23/2019)

Quality is good for the price.

Review by

Gloria

Communication with the shop was great could not be happier! (Posted on 11/21/2019)

Great item

Review by

Teresa

Fast shipping. Great communication!
(Posted on 10/17/2019)

It's beautifully made

Review by

Shirley

It's super soft, fits great, and was exactly was I was looking for!!! (Posted on 10/9/2019)

Great !

Review by

DONNA

Very worthy of my money. Seller was helpful as well. (Posted on 9/11/2019)

The BEST shop for cosplay costumes!!

Review by

Lena

I LOVE IT! The fabric is perfect and very comfortable and movie accurate! Thank you! (Posted on 9/9/2019)

Fits perfectly and looks great

Review by

Sparks

It was described correctly, it was shipped on Time. I received many Compliments (Posted on 8/24/2019)

Looks high quality

Review by

Tamara P. Atkins

I personally love this so so much. I'm currently obsessed with Game Of Thrones Daenerys Targaryen and think it fits really well. It's great for its price as well. (Posted on 8/2/2019)

Nice outfit

Review by

Amy

This is one of the best costumes we've ever purchased. (Posted on 8/1/2019)

Five Stars

Review by

Dawn Bronson

Great for a Daenerys costume. (Posted on 7/19/2019)

best deal

Review by

Christian

I really only bought this for the dress and it is a wonderful product for the price. I do not think you could find a better deal. (Posted on 7/4/2019)

Beautiful!

Review by

Karly Brick

Beautifully made but a bit big. Regardless, I managed and I loved the design on the fabric. A beautiful dress and perfect for my Daenerys costume. (Posted on 6/30/2019)

Looks good

Review by

Emily

Was comfortable and fit well. Wore this to a costume party and was extremely pleased. (Posted on 6/22/2019)

Perfect Halloween outfit

Review by

Crystal Kroppman

Wow outstanding .nice costume for my daughter. Put the dress on and the belt. Really amazing! (Posted on 6/14/2019)

it looked great

Review by

Delphi Skysong

The product is well made and beautiful. My only issue was the top part is a bit baggy but I'm also a bit small on the chest . I think going down a size won't hurt if you have a smaller chest since the waist and rest of the dress is pretty free . (Posted on 5/21/2019)

Good value for the money

Review by

Natalie

Very attractive. The fabric is beautiful. (Posted on 5/16/2019)

Rejoice!

Review by

Melanie Naturale

I have been looking for a new dress and this one is perfect. The quality of the dress is amazing. (Posted on 4/7/2019)

what I expected!

Review by

Jason D Knapp

The product was what I expected! I was terrified it would be a completely different outfit from that pictured but it was what I expected. Is it the best made quality, no, but it is pretty dang good item for the money! I would order from them again. The costume is much better than other options I have seen out there! So excited to wear it! (Posted on 3/25/2019)

Alfredo Garcia Jr.

Review by

Allison

The item arrived promptly and it was very good. Exactly what we expected and just have to do some minor alterations for that perfect fit. :-) (Posted on 3/12/2019)

Better than expected

Review by

sarah walgren

Great costume, well made and looks great! (Posted on 7/26/2018)
Size Chart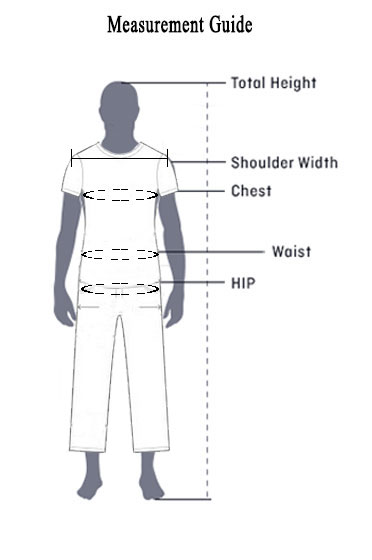 Important measurements
1. Shoulder
Holding the measure tape; horizontally measure from the left side to the right side, not around.
2. Chest
Wrap around the widest point of your chest.
3. Waist
Starting at your belly button, wrap the measuring tape completely around your waist.
4. Hip
Secure the measure tape at the fullest part of your hip area, then wrap around your hip to measure.
If you choose customize size, please provide your height, shoulder, chest, waist, hip, we will made it to your measure.
Shipping