Description
Details
Material : Satin, Polyester, PU, Artificial Leather
Including : T-Shirts, Pants, Arm strap, Gloves * 2, Tie , Knee protectors * 2 , Waist bag , Belts * 2
Options: Helmet, Backpack
Sources: PUBG / PLAYERUNKNOWN'S BATTLEGROUNDS
Please pay attention that there would be a separate package to carry helmet concerning the length and the material of helmet that needs a special packing.
About PUBG:
PlayerUnknown's Battlegrounds (PUBG) is an online multiplayer battle royale game developed and published by PUBG Corporation, a subsidiary of South Korean video game company Bluehole. In the game, up to one hundred players parachute onto an island and scavenge for weapons and equipment to kill others while avoiding getting killed themselves. The available safe area of the game's map decreases in size over time, directing surviving players into tighter areas to force encounters. The last player or team standing wins the round.
Please check our sizing chart before you do the purchase, we can accept some of the customize size requirements, but please provide us your measurements.


Reviews
These are amazing..

Review by

Channing

They showed up on time and they are exactly what i asked for. (Posted on 12/7/2019)

Thank you so much!!

Review by

Basil

It's the perfect size and the quality is great. It's just as pictured and I love it (Posted on 11/23/2019)

Thank you so much!!

Review by

Jesse

The outfit fit PERFECTLY and is such amazing quality!! (Posted on 11/15/2019)

Awesome costume, awesome seller!

Review by

Wade

The shop is very responsive. Overall, this cosplay is really fantastic! (Posted on 10/23/2019)

Could not be more pleased.

Review by

Craig

I loved to work with the team behind this shop, every alteration, every detail is perfect ! (Posted on 10/16/2019)

Thank you so much !

Review by

Robin

We love everything about the PUBG costume we received. The quality is amazing, and the sizing is perfect. (Posted on 10/7/2019)

The seller was a pleasure to deal with.

Review by

Hugo

They made sure that everything would fit perfectly. Thank you very much for the speed, a beautiful creation, very comfortable to wear. I would recommend!! (Posted on 9/11/2019)

The gloves are unbelievable great.

Review by

Armstrong

Amazing work! Fits perfectly and looks absolutely great!
Totally worth the money! (Posted on 9/6/2019)

Pretty good quality!

Review by

Jack

It is a very precise suit I liked very much.
The customer service was super cooperative, and they helped make a suit closest to my measurements for no extra cost. Really great and I'm really satisfied with my purchase! (Posted on 8/23/2019)

This is a great costume.

Review by

Amber

Excellent suit , just like the pictures!! (Posted on 8/1/2019)

Fantastic

Review by

Steven Charles

Very well made, would totally recommend! (Posted on 8/1/2019)

Five Star Customer Service

Review by

James

It looked so awesome! (Posted on 7/20/2019)

It's perfect !

Review by

Francis C.

Custom fit good (after replacement). Good customer service (Posted on 7/13/2019)

Great customization

Review by

Bentley

Great suit for the price! (Posted on 7/4/2019)

Yes.

Review by

Karen

Quality was higher than expected. (Posted on 6/25/2019)

Fantastic quality, great value!

Review by

D. Ellenwood

I highly recommend this costume for any adult as it's one of the best PLAYERUNKNOWN'S BATTLEGROUNDS costumes at an affordable price. (Posted on 6/19/2019)

I couldn't be more happier with this purchase

Review by

Paddie Spork

This suit is amazing like character. It fit me perfect. (Posted on 6/5/2019)

Awesome!

Review by

John H

Amazing. As described. Really, really satisfied... (Posted on 5/19/2019)

Perfect!

Review by

Joely

Pretty good quality! They got back quick to me and were always really nice and again, got the costume done so fast. Really great and I'm really satisfied with my purchase! (Posted on 5/12/2019)
Size Chart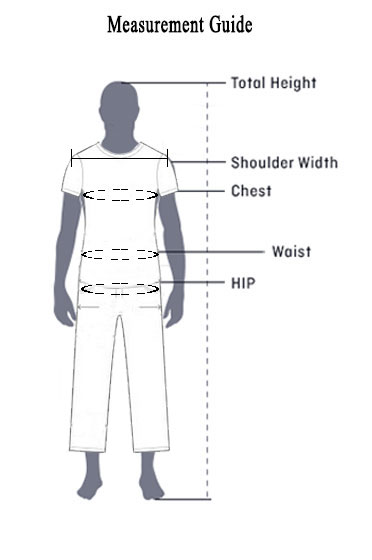 Important measurements
1. Shoulder
Holding the measure tape; horizontally measure from the left side to the right side, not around.
2. Chest
Wrap around the widest point of your chest.
3. Waist
Starting at your belly button, wrap the measuring tape completely around your waist.
4. Hip
Secure the measure tape at the fullest part of your hip area, then wrap around your hip to measure.
If you choose customize size, please provide your height, shoulder, chest, waist, hip, we will made it to your measure.
Shipping