Description
Details
Includes: Connor Jacket + Shirt + Necktie (free, random color)
Material:THICKIY RONIOR
Character Introduction:
Detroit: Become Human is an adventure game developed by Quantic Dream and published by Sony Interactive Entertainment for PlayStation 4, released worldwide on 25 May 2018. The plot revolves around three androids: Kara (Valorie Curry), who escapes the owner she was serving to explore her newfound sentience and protect a young girl; Connor (Bryan Dechart), whose job it is to hunt down sentient androids; and Markus (Jesse Williams), who devotes himself to releasing other androids from servitude. They may survive or perish depending on dialogue choices that shape the story.
Connor, a police investigator android tasked with hunting down androids that have deviated from their programmed behaviours.
Please check our sizing chart before you do the purchase, we can accept some of the customize size requirements, but please provide us your measurements.


Reviews
This dress is amazing

Review by

Fitch

I love everything about this store and the product. (Posted on 12/10/2019)

This jacket is awesome!

Review by

Kennedy

Got it for my boyfriend for his birthday and he loves it. (Posted on 11/30/2019)

Delivery was way faster then expected.

Review by

Carey

It fits well and the designs are flawless in the material. (Posted on 11/21/2019)

Thank-You . I highly recommend this shop!!

Review by

Tim

Arrived in amazing speed- Awesome workmanship and fits perfectly !!! (Posted on 10/19/2019)

Love this cosplay!

Review by

Paddy

Fits my measurements great, the seller was great at communicating and very responsive! (Posted on 10/11/2019)

It is exactly what I asked for

Review by

Charles

Awesome costume! Very well made and seller was great with communication. (Posted on 9/23/2019)

it's fits PERFECTLY! Highly recommended!

Review by

Ernest

Highly recommended! Thank you so much!
(Posted on 9/9/2019)

It looks great!

Review by

Amos

It looks great! This is made of great materials. (Posted on 8/24/2019)

Fast shipping!

Review by

Stephanie

This product looks great! And very fast shipping. (Posted on 8/2/2019)

He loved it

Review by

Bustamante

My nephew wanted this and has worn it everyday since receiving the costume. He loves it. (Posted on 7/28/2019)

Be the best

Review by

Haley Moore

My number one praise is that it is in-game accurate: in fact, it's the most accurate jacket I could find. Everything's included, such as the tie, tie clip, as well as a white button up shirt. THE RK800 SERIAL NUMBER IS CORRECT, which means a lot to those who cosplay. (Posted on 7/5/2019)

Came earlier

Review by

Jennifer Leavitt

Came earlier than expected and in good quality! it does come as advertised! I recommend it! (Posted on 6/23/2019)

amazing

Review by

clayton dezan

It looks, fits and feels perfect, i just had to steam iron it once and it just looks amazing (Posted on 6/18/2019)

Awesome cosplay outfit

Review by

Amanda

I read the notes and measurements and ordered a small for my daughter. It fits her perfectly. The material is a bit lighter than expected but overall very nicely put together. The shirt and tie are good materials, and overall I found this to be a good value for the price. I'd buy it again for sure. (Posted on 6/10/2019)

Fit and ready to accomplish my mission

Review by

Kira T.

it's a good looking jacket, and perfect for my Connor cosplay. Though if you really want a perfect fit, I'd recommend the custom sizing option. (Posted on 5/24/2019)

Five Stars

Review by

tburwell

I highly recommend it if you're cosplaying for Halloween. (Posted on 4/19/2019)

Great product

Review by

Joe Mangus

The jacket itself is perfect. The details and material are very nice. What it shows in the photo is exactly what you'll get. You will have to safety pin the blue band to make sure it's secured the way you want it. Plus the pockets are nice and spacious. (Posted on 4/13/2019)

AMAZING!!!

Review by

Lorrie D.

Super nice quality! Came way earlier than expected! Tried it on as soon as I pulled it from my mailbox and I was blown away at the picture perfect Jacket. Highly recommend this seller!! Thank you so much!! (Posted on 3/6/2019)
Size Chart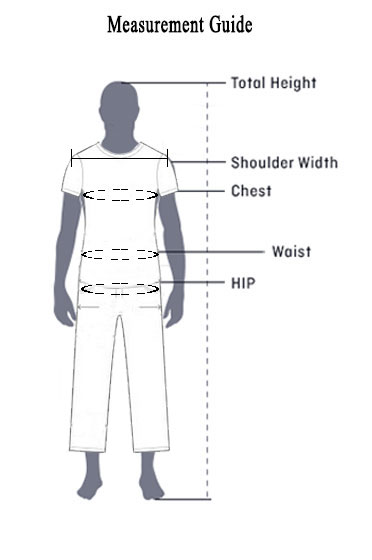 Important measurements
1. Shoulder
Holding the measure tape; horizontally measure from the left side to the right side, not around.
2. Chest
Wrap around the widest point of your chest.
3. Waist
Starting at your belly button, wrap the measuring tape completely around your waist.
4. Hip
Secure the measure tape at the fullest part of your hip area, then wrap around your hip to measure.
If you choose customize size, please provide your height, shoulder, chest, waist, hip, we will made it to your measure.
Shipping