Description
Details
Description
Including: Vest + Shirt + Trousers + Cape + Hat + Belt + Waist Cloth+ Sleeves + Leg Cover and Others
Fabrics: Linen, Cotton, Pleather, PVC, Satin
Color: Black
Assassin's Creed 2 II Ezio Outfit Cosplay Costume Custom-Made Black Version, tailor made in your own measurements. This costume could be custom-made for both adults and children. Please leave a message and write down your measurements: Height, Weight, Chest, Waist, Hip, and others.
Deluxe Assassins Creed cosplay revolves around a science fiction game that incorporates 4 different types of action packed games. He must play out the activity of his ancestors to find artifacts. This game is symbolic for historical figures that have passed due to certain plots, although many of these plots have been transformed throughout the game to hide certain inaccuracies that historians are unsure about. The game varies with each of the 4 main games and the cosplay costumes are endless. There are often 4 different outfits to choose from and they all come with distinct capes and colors. Assassin's creed cosplay will represent a separate family or city from the renaissance.
Do not underestimate the skills of your cosplay character. At the same time, do not the capabilities of your passive skills. Let go of the darkness and you can literally feel that the dark side would be released. Enjoy being assigned in performing special high-level missions, such as that of performing assassinations and tortures. Enjoy in the maximum success of the requirements of your missions. You don't have to mask and to conceal your true identity anymore. What are you waiting for? Your prowess will definitely surprise everyone as you wear your costume and full accessories. Your ideals and personality may also evolve as you drastically try to emulate on becoming your own character. Execute your revenge in your character as you give everyone a taste of your power and feel the power as you get stronger.
Please check our sizing chart before you do the purchase, we can accept some of the customize size requirements, but please provide us your measurements.


Reviews
OK

Review by

Magee

It is of high quality and quite adorable. Unfortunately, I did not receive it in time.
(Posted on 11/26/2019)

Definitely will buy from here again! :)

Review by

Bowen

I am plus size and I was worried about sizing, but it really does fit perfectly! (Posted on 11/16/2019)

It fits well and is super comfortable.

Review by

Yale

The costume fit perfectly and looked identical to the photo. I love it! (Posted on 11/4/2019)

Awesome!

Review by

Channing

fucking amazing job...well worth the money. (Posted on 10/26/2019)

Was awesome! Great fit great quality!

Review by

Werner

It arrived on time ! Overall, good product for a good cost! (Posted on 10/19/2019)

It also fit amazingly.

Review by

Malcolm

The entire process of buying this costume was a breeze. (Posted on 10/12/2019)

Great job!

Review by

Douglas

Bought XL and fits really well. Nice quality. (Posted on 10/4/2019)

Thank you SO much!

Review by

Howar

Absolutely fantastic! Friendly and fast customer service, and Will definitely be buying more costumes in the future (Posted on 9/19/2019)

Great quality and easy to apply.

Review by

Nigel Nevin

The whole set looks amazing! (Posted on 9/5/2019)

This item is amazing!!

Review by

Ralap

The seller worked with my on color and details, and did an amazing job capturing the design in mind! It works perfectly and was finished and arrived before they promised! (Posted on 8/20/2019)

Excellent Costume for the Assassin in Your Family

Review by

smlpaws

the guys were really impressed with the quality of the look. The costume IS complicated. There's a lot to it, so give yourself some practice time before you actually have to wear it. Right out of the package, I took about 45 minutes to get acquainted with everything. Once you've gotten it on a couple times, it's easy to see how it all fits together. (Posted on 7/22/2019)

Cool

Review by

Connellan

This is an excellent costume for the money. It's not too cheap overall and the look is right on. I bought this to wear to a superhero-themed bachelor party night. (Posted on 7/14/2019)

Great products and prices

Review by

DGMAKI

Convention participants loved this on my son. (Posted on 6/29/2019)

Five Stars

Review by

Robin

No complaints on this purchase. (Posted on 6/19/2019)

AWESOME

Review by

Sandy

It is a little large as expected, for our grandson. It should be perfect later in the year for Comic-Con and other events. (Posted on 6/16/2019)

Five Stars

Review by

Lauren Harden

This costume looks great. it will look just like the video game. (Posted on 5/23/2019)

Great product

Review by

Kathleen Haddow

Fantastic product fast shipping very authentic look as well (Posted on 5/17/2019)

fit as expected

Review by

Beth Saunders

This was bought for my son, he loved it and the quality was very good and it fit awesome. He will be wearing it for awhile (Posted on 5/9/2019)

Five Stars

Review by

Michael Stillwell

wonderful costume. not your average Halloween costume either!!! well worth the money! (Posted on 3/26/2019)

Ezio costume

Review by

A.Moore

It is an amazing costume. Fits perfectly and it looks better than the photos. Super impressed by the entire thing. And shipping was on time! Love it!! (Posted on 3/20/2019)

it fits wonderfully and he's really excited to have it

Review by

Roger Mayes

great quality, good details. awesome costume!!! money well spent, my only complaint is that the shirt is a little tight (Posted on 3/12/2019)

Highly Recommend!

Review by

Gambler

Perfect product at a great price! (Posted on 2/18/2019)

I enjoyed this outfit very much

Review by

Marisa Benke

I enjoyed this outfit very much. It was a little large.but it's ok. (Posted on 1/28/2019)

yes i love it!!

Review by

Courtney

great product. fits well. im a medium i choose a large but i think a medium would fitted well too. i love how it looks. at first i tho it was gonna come out terrible but its amazing n i recommend it to anyone (Posted on 1/15/2019)

Good costume

Review by

Krysrox

The fit was good, he looked terrific, and thoroughly enjoyed wearing it! (Posted on 1/9/2019)

Great Costume!

Review by

Jacquelyn Brauer

Great quality! Some parts of the costume are delicate, I'm a larger guy, so most of the measurements for the medium/large size fit, however the chest is a little tight on me. Should fit a more normal sized person perfectly. Overall, despite the weak points, this is an awesome costume, highly detailed, and will make you look like you belong in an Assassins Creed game of your own. (Posted on 11/22/2018)

Great great great!!!

Review by

Kylee

I'm very satisfied. M size fit me well. (Posted on 11/4/2018)

Thank you very much!!!

Review by

stephyyD

I bought it for my friends. He likes it. (Posted on 10/26/2018)

The costume was amazing!

Review by

AmberAutopsy

Can't wait to put it on but the shoes of the other shop haven't been received yet. (Posted on 10/19/2018)

Great material

Review by

vniebler

Both the quality and the style are very good, but the waist is a little too big for me. (Posted on 10/16/2018)

love it!

Review by

Megan Delcourt

The clothe is exactly the same as the picture. The size is very standard, there is no chromatic aberration, no fading and the tailoring is good. Pretty good! (Posted on 10/8/2018)

OK..

Review by

Keilyn Dingess

The hat and costume is not connected. The size fits me well. (Posted on 9/30/2018)

It fit perfectly!

Review by

perrine lepretre

It fit perfectly! (Posted on 9/23/2018)

Very nice

Review by

Robyn Evans

The details are very well made. (Posted on 9/13/2018)

Gorgeous!

Review by

Ceintia

The details were absolutely perfect! (Posted on 9/2/2018)

Amazing detail

Review by

kyle parsons

Exactly as I ordered! Highly recommended! (Posted on 8/28/2018)

Great costume!

Review by

Holo

Thank you very much. Will order more costumes in the future. (Posted on 8/16/2018)

Cool

Review by

Elizabeth Champion

Highly recommend this seller (Posted on 8/10/2018)

Not bad

Review by

Donald Dixon

I was wondering the quality and shipping time. In fact, it is not bad! (Posted on 7/20/2018)

Excellent

Review by

Heidi Springsteed

The costume is super excellent beyond my expectation. (Posted on 7/8/2018)

Wonderful

Review by

Donna Jackson

The costume is really wonderful thing. Super great quality, faster delivery and kind customer service. And also reasonable price. (Posted on 6/15/2018)

Great Costume

Review by

Norma McGuiire

Great Shopping experience. Will shop from this website again. (Posted on 5/27/2018)

fast shipping

Review by

Jodie Chmelicek

After leaving comments of expecting delivery date, it is predicted that the shipping is very fast. (Posted on 5/19/2018)

Better Design

Review by

Saima Nashren

The design is very cool. (Posted on 5/13/2018)

Well Done

Review by

Beth McGrew

Super amazing! I bought the costume to join the Comic Con. It is really eye-catching. (Posted on 4/23/2018)

Perfect

Review by

Mercedes French

I totally love the costume. Excellent Quality. (Posted on 4/17/2018)

Many Thanks

Review by

Johnny Anderson

I received the costume yesterday. The costume fits well, the accessories are simple design but workmanship is very good. (Posted on 3/19/2018)

Very nice device

Review by

Silvia Ondina

Love them. They fit nicely and work very easily. (Posted on 3/11/2018)

Speedy shipping!

Review by

Sam Szczesny

Wonderful item! Super excited to wear it with my finished costume! (Posted on 2/24/2018)

This item is Awesome!

Review by

Ryan Seate

I got the gauntlet and i love it! You did a superb job, this really completes the cosplay! (Posted on 11/26/2017)

Beautiful work

Review by

Jefferson Chuong

It's a great fit (Posted on 10/26/2017)
Size Chart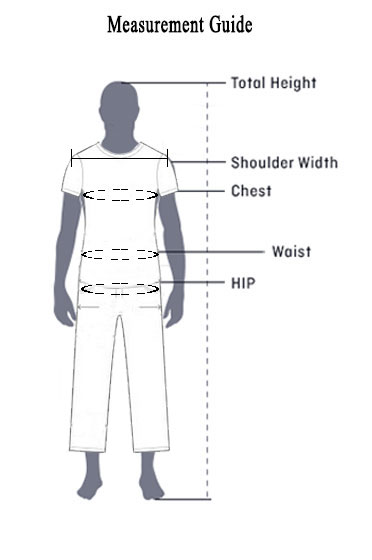 Important measurements
1. Shoulder
Holding the measure tape; horizontally measure from the left side to the right side, not around.
2. Chest
Wrap around the widest point of your chest.
3. Waist
Starting at your belly button, wrap the measuring tape completely around your waist.
4. Hip
Secure the measure tape at the fullest part of your hip area, then wrap around your hip to measure.
If you choose customize size, please provide your height, shoulder, chest, waist, hip, we will made it to your measure.
Shipping