Description
Details
Includes: Jumpsuit, A pair of gloves, leg-sleeve, Blindfold
Fabric: PU Leather
About Nightwing:
Raised by his parents (better known as the "Flying Graysons") in a circus, Dick Grayson was trained to be incredibly acrobatic. His parents were killed after criminals had failed to extort money from the circus. Dick was soon adopted by billionaire Bruce Wayne, who shared his secret identity and extensively trained the boy to become Batman's sidekick, the first Robin. After he aided Batman for years, Dick eventually moved on and became a hero in his own right. As Nightwing, he patrolled both Gotham City and Blüdhaven, and worked with Batman no longer as a sidekick, but as an ally. He was the main protagonist of the GCPD Lockdown DLC of Batman: Arkham Knight.
Please check our sizing chart before you do the purchase, we can accept some of the customize size requirements, but please provide us your measurements.


Reviews
Love this! True to size!

Review by

Antoine

Delivery was quick and the costume coat was well packaged. I am very pleased! (Posted on 8/27/2020)

Costume fit perfect and was very accurate.

Review by

Bancroft

It looks exactly like the picture, as well! I really like this costume. (Posted on 12/24/2019)

Thank you!

Review by

Irene

My boyfriend is in love with his birthday present! Excellent quality, super comfortable and fits perfect! (Posted on 11/27/2019)

They were polite and in arrived in a reasonable amount of time.

Review by

Marshall

I was able to use parts of the cosplay to custom make my own and it helped. (Posted on 11/21/2019)

Great product, exactly what I ordered. Thanks!

Review by

Jesse

Everything fit perfectly and looked amazing! I love it!
(Posted on 10/25/2019)

Thanks a lot for this amazing experience.

Review by

Bill

The cosplay itself is very beautiful and very well crafted. Everything fits perfectly and I can tell it was very well cared for. Needless to say I was not disappointed at all and I'll be sure to order from this shop again in the future!
(Posted on 10/14/2019)

The service was great.

Review by

Jesse

Great value and great product. Would highly recommend for any cosplayer (Posted on 9/15/2019)

I love this dress! It's so accurate! Thank you!!

Review by

Carl

Thank you very much for the speed, a beautiful creation, very comfortable to wear. I would recommend!! (Posted on 9/9/2019)

Fits like a glove!

Review by

Eddsmooth

Bought this for my boyfriend for Halloween, we ordered a Medium and it fit perfectly. (Posted on 7/26/2019)

It's okay

Review by

Jennine Mustard

I can't believe the price for this costume. Absolutely worth every penny. (Posted on 7/11/2019)

Amazing.

Review by

Axel

What i like the most of this costume that it fits my size and it's good. (Posted on 6/14/2019)

A legit costume for a good price

Review by

Michael

Fits perfectly, looks very realistic. (Posted on 4/18/2019)

Great looking and fitting costume

Review by

Jonathan

Absolutely amazing!! My son LOVES this!! (Posted on 3/27/2019)

Stunning!

Review by

zack

This costume is shockingly nice. It fits as expected. (Posted on 1/12/2019)
Size Chart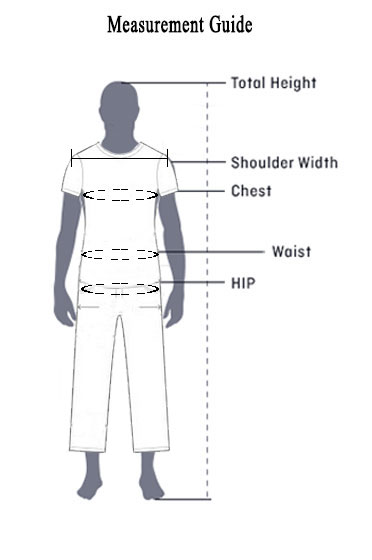 Important measurements
1. Shoulder
Holding the measure tape; horizontally measure from the left side to the right side, not around.
2. Chest
Wrap around the widest point of your chest.
3. Waist
Starting at your belly button, wrap the measuring tape completely around your waist.
4. Hip
Secure the measure tape at the fullest part of your hip area, then wrap around your hip to measure.
If you choose customize size, please provide your height, shoulder, chest, waist, hip, we will made it to your measure.
Shipping