Description
Details
Includes: Kimono
Material: Uniform cloth
Net Weight: 1.00kg
Shipping Weight: 1.20kg
Shown Color: Mixed
Care Instructions: Hand wash in cold water, hang to dry, no bleach
Features: Well designed kimono helps you to show anime role's temperament.
Character Introduction: Hoozuki seems to enjoy resorting to violent means to resolving problems, seen when he confronts Momotaro and tells him "This is Hell so let's settle this with violence". Hoozuki sees violence as the fastest way to deal with whatever difficulties he faces and takes sadistic delight in doing so. He is also proficient in inflicting mental anguish verbally, traumatizing Beelzebub so much after their first meeting that the prime minister of European hell vomits blood the next time he encounters Hoozuki. Hoozuki's sharp intellect serves him beyond affairs of the state, enabling him to win any argument and cow potential enemies such as Satan and Momotaro's three animal companions. Those who fall prey to Hoozuki's sharp tongue typically sink into depression, vomit blood or develop a serious phobia of Hoozuki the next time they encounter him..
Please check our sizing chart before you do the purchase, we can accept some of the customize size requirements, but please provide us your measurements.


Reviews
Size Chart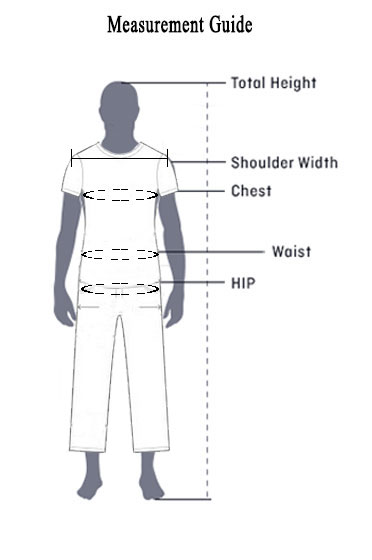 Important measurements
1. Shoulder
Holding the measure tape; horizontally measure from the left side to the right side, not around.
2. Chest
Wrap around the widest point of your chest.
3. Waist
Starting at your belly button, wrap the measuring tape completely around your waist.
4. Hip
Secure the measure tape at the fullest part of your hip area, then wrap around your hip to measure.
If you choose customize size, please provide your height, shoulder, chest, waist, hip, we will made it to your measure.
Shipping