Description
Details
Includes: Overcoat, coat, trousers
Material: Uniform cloth
Net Weight: 1.30kg
Shipping Weight: 1.50kg
Shown Color: White
Care Instructions: Hand wash in cold water, hang to dry, no bleach
Features: This suits is well reflecting Hakutaku's characters, we hope you like it.
Character Introduction: Hakutaku comes across as gracious and charming and is extremely popular with the ladies, much as Hoozuki is. However he is an unrepentant womanizer and flirts with every pretty woman he sees including Peach Maki and Oko. It is this quality that both Hoozuki and Momotaro find extremely distasteful about Hakutaku though they seem to have accepted it with time.Hakutaku claims that his popularity with women stems from the fact that his medical skills are much admired by womenfolk. This seems accurate as most of his callers are female asking him for herbal remedies. Unfortunately, his philandering ways also tends to enrage the women he is two-timing, leading to him being dumped as often as he gains a new girlfriend.
Please check our sizing chart before you do the purchase, we can accept some of the customize size requirements, but please provide us your measurements.


Reviews
Size Chart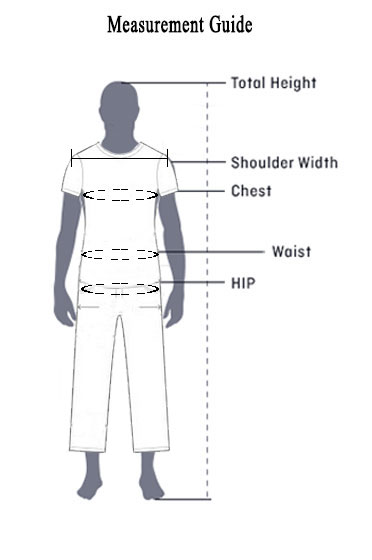 Important measurements
1. Shoulder
Holding the measure tape; horizontally measure from the left side to the right side, not around.
2. Chest
Wrap around the widest point of your chest.
3. Waist
Starting at your belly button, wrap the measuring tape completely around your waist.
4. Hip
Secure the measure tape at the fullest part of your hip area, then wrap around your hip to measure.
If you choose customize size, please provide your height, shoulder, chest, waist, hip, we will made it to your measure.
Shipping